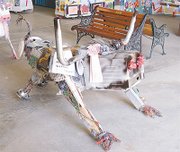 Yakima Valley Fair & Rodeo officials recently announced the winners of the creative cow and cow tale contests.
Winning the $150 first-place prize in the creative cow contest was the Junkyard Art Class from Grandview High School.
Smucker's finished second and garnered $100, while the Pond R Roza Partners 4-H Club claimed third place honors and a $75 prize.
Honorable mention recognition went to the Mensonides family, Sunnyside Christian Thrift Store, Irrigation Specialist, Delta Kappa Sorority and Susie Meyers/Heart Valenina.
Judges Cowboy Buck and Elizabeth, Paul Creighton and Mazey T the Clown also selected the following winners of the cow tale contest:
- Age group 19-99
Sharleen Honeycutt, first prize, $75 award.
- Age group 5-18
Reese and Natalie Campbell tale "Neopolitan," first place, $75 award.
Olivia Mears tale "Misty & the Lost Calf," second place, $50 award.
Zoe Prins "Blossems Cow Tale," third place, $25 award.
The Yakima Valley Fair & Rodeo Foundation will auction off some of the cows from the contest at its annual dinner on Nov. 15, 2012.