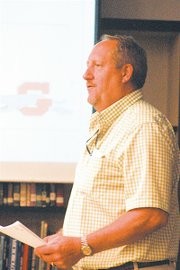 GRANDVIEW - The budget numbers are in, and Grandview School Board directors have officially adopted the 2012-13 budget.
As budget forecasts predicted, Grandview School District has lost funding from the I-728 Student Achievement funds, Education Jobs Federal Grant and state enrollment funding. A total of nearly $1,148,000 has been deducted from excepted revenue for the school district, and as a result a few changes have been made concerning staff positions.
The district has reported a continued reduction of K-12 certificated and classified employee salaries by 1.9 percent and administrator salaries by 3 percent that began in September 2011.
Staff changes concerning certificated employees, including librarians, teachers, coaches and facilitators, have decreased by 11.7 positions, according to the district's finance director, Brad Shreeve. Classified positions, including paraprofessionals, bus drivers, food service employees and secretaries, have been decreased by 10 personnel.
Beginning the school year, Shreeve says the district will begin with general fund account balances totaling nearly $5.8 million.
The general fund is established to pay for the daily operational costs of the district. The total budgeted revenues from local, state, federal and other sources total $33,533,527. The total budgeted expenditures total $34,063,466.
After revenues and expenditures, Shreeve predicts the general fund balance in August 2013 will be about around $5.04 million.
After a budget hearing detailing the exact numbers of revenues and expenditures for each facet of the district, board directors voted to accept the budget for the 2012-13 school year.