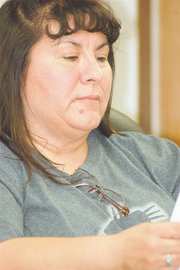 MABTON - There may, or may not be an open council seat in the City of Mabton this month.
At this past Tuesday evening's city council meeting Councilman Mario Martinez brought forth the issue that Councilman Mark Gourneau has not been present at many of the year's meetings thus far, and most recently has missed three consecutive council sessions.
Records indicate that of the 16 council meetings since January of this year, Gourneau as attended just six meetings.
Earlier this year, council members voted to amend the city ordinance on meeting attendance, which previously had automatically excused a council member from a meeting if the reason for being absent had to do with work duties, family issues or an illness.
The ordinance was amended by the council to change the way excused absences were given. The ordinance states now that an absent council member will have the opportunity to give the reason for absence to fellow council members. The council can then offer a motion to excuse the absence.
Martinez said no motion was made for the past two weeks to excuse Gourneau from the meetings.
City Attorney Phil Lamb said if the city's records did indeed confirm three consecutive unexcused absences the council's next steps would be to make a motion to declare an open council seat.
Lamb also said the council should consider on the next meeting's agenda to verify the amount of unexcused absences before taking any action.
Martinez said although he's willing to excuse absences for legitimate circumstances, "...this position is not for people to abuse the system."
Last month, for example, Martinez said when several Mabton citizens appeared at a council meeting to display their dissatisfaction for the new fireworks ordinance, Gourneau simply replied, 'I wasn't here, I didn't vote'.
Martinez says it's nothing personal, but that Mabton residents deserve consistency.
"We have a lot of work ahead of us, and it's going to take all five of us in the chair and the mayor to get it done," Martinez added.
Mabton Mayor Angel Reyna says he feels that the council may think Gourneau hasn't been present, but at the next meeting scheduled for Aug. 28, the discussion on what to do next could go either way.
Reyna says the next meeting's agenda item will be to revisit the reasons behind the absences, and will then decide whether or not to declare Gourneau excused.
"We want people coming in and providing feedback," Reyna said. "When he's been here, he's done a great job, but when he's not here it's difficult to make an impact.
"It's not my decision, it's the council's decision to enforce an ordinance they have passed," he added.
Councilwoman Oping Hutson said if the reasons for absences are legitimate, she'll vote to excuse them.
"But he really needs to let us know what is going on," she added.
Martinez stressed that the council and the city's residents need consistency.
The next Mabton City Council meeting is scheduled for Tuesday, Aug. 28, beginning with a study session at 6 p.m. and the regular meeting at 7 p.m.