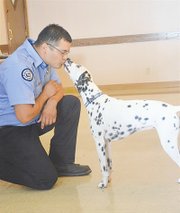 PROSSER - She isn't just a cute dog that visits youngsters. No, Dottie Sue can teach adults a few lessons too.
She and firefighter Tony Castillo on Tuesday of this week visited the monthly meeting of the Lower Valley Christian Women's Connection in Prosser.
The duo provided the feature presentation for those gathered at the meeting, teaching everyone present important life saving skills needed in the event of a fire.
Dottie Sue is a Dalmatian and the breed is known as the mascot of fire services. For that reason, people are often receptive to her message, according to Castillo.
He said the breed was found to work well with the horses once used for pulling fire wagons. Fire service personnel needed an animal that could alert citizens when the fire wagon was rushing to a scene. Other breeds didn't fit in because the horses weren't receptive to the dogs. But, Dalmatians were friendly and firefighters witnessed the dogs sleeping with the horses.
People across the nation began associating the breed with fire stations and seemingly took notice of the dogs when they ran through the streets to let citizens know the fire wagon was coming.
When fire engines replaced the fire wagons, firefighters decided to keep the Dalmatians as a mascot for fire services. "Firefighters had fallen in love with the dogs," said Castillo.
Dottie Sue is the second Dalmation he has owned. After the death of the first dog, one that had been rescued, he wasn't prepared to fall in love with another dog. It was his wife that prodded him to meet the litter from which Dottie Sue was found.
Castillo said he was ready to walk away from the litter, not being impressed by the three dogs available to him. But, Dottie Sue stuck by his side and melted his heart as he entered into discussion with the breeders regarding selections from future litters.
Because Dottie Sue was a puppy, Castillo saw an opportunity. He could train her to help him educate citizens on fire safety.
Castillo and Dottie Sue can often be seen in schools, teaching youngsters about the dangers of playing with matches, lighters and fire.
He told the ladies gathered for Tuesday's luncheon that it is important to install smoke detectors throughout the home.
"It (the detector) is awake all the time," said Castillo, stating people who are sleeping can fall victim to fire without alarms alerting them to the dangerous situation.
"They aren't fire protection...they are death protection," said the firefighter.
He urged those present to also establish a fire escape plan and to practice using it. "It will help those in the home remember what to do during a fire through muscle memory," Castillo said, stating people often become disoriented during an emergency.
"Dottie helps get the message across," said Castillo, stating techniques taught for survival during the event of a fire include teaching individuals to crawl beneath the smoke.
He said he urges them to check doors for heat before opening them and Dottie Sue demonstrated touching a door at a low level, as well as higher up.
If a person's clothing catches fire, Castillo said it is important to remember "Stop, drop and roll." That, too, was demonstrated by Dottie Sue.
Castillo said it is also important to cover your face with your hands while rolling. That, he said, will guard the airway from smoke inhalation and the tissues will be protected from the fire.
After ensuring the clothing is no longer on fire, citizens are urged to crawl to the designated exit. Once outside, Castillo said, walk very quickly to a designated meeting place and call 9-1-1.