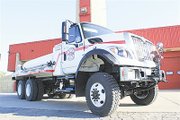 TOPPENISH - Just in time for a very busy wildland fire season, Yakima County Fire District #5 has secured a new firefighting tool.
A new fire engine will be stationed at Yakima County Fire District #5's station in Toppenish, but will be available for firefighters throughout the district when needed.
The new engine is an off-road tender that carries 1,500 gallons of water and two firefighters. Off-road tenders are a critical part of the district's fleet because the engines are able to quickly provide large quantities of water to remote locations.
This tender also responds to structure fires to supply a large amount of water in areas that do not have fire hydrants available.
The new fire engine was purchased as part of Yakima County's capital replacement plan to replace an aging piece of apparatus at one of the district's busiest fire stations in the Lower Valley.
The Yakama Nation Legends Casino also made a partial grant contribution to the project, which allowed the engine to be outfitted with a higher capacity diesel water pump. Another identical engine is currently under construction to replace a water tender at YCFD #5's station one, located in White Swan.
"The volunteer firefighters at the Toppenish station were very excited to receive this truck, which will allow us to better serve and protect our community," said Capt. Andy Babcock.