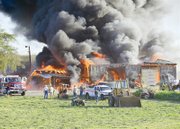 It was all in a day's work for a work crew cleaning up at Thomas Dekker's property yesterday. That is, until a truck burst into flames.
A call came in to Yakima County Fire District #5 at around 1:44 p.m. reporting the blaze. Firemen immediately rushed to the scene in the 500 block of McLean Drive.
Upon arrival, officials discovered that a truck had caught fire and the blaze had quickly spread through dry weeds and into an outbuilding nearby. Sunnyside firefighters were called upon to assist with the incident, and 14 firemen in all rose to the occasion.
Sunnyside Deputy Fire Chief Lloyd Hazzard says Dekker had yesterday hired a group to come and clean up the long-vacant property. Officials believe the fire was started from a malfunctioning carburetor in a truck.
"With a little fire, dry fuel (weeds) and a little wind, it doesn't take long to pick up," Hazzard said.
Firemen extinguished the blaze and cleared the scene in just about an hour after they had been called, at 2:43 p.m.
But the day wasn't done for local firefighters.
Just a few short hours later, county firemen were also dispatched to the 700 block of Braden Road at about 6:15 p.m. There, they discovered that an entire building had been completely engulfed in flames.
Tried as they might to fight the fire, the Robert's Repair shop, owned by Robert Bestebreur, was ruled a total loss.
Sunnyside firefighters also fielded four calls for aid yesterday.
Of the calls for aid, one person was transported to Sunnyside Community Hospital.
Firefighters also responded to a lift assistance request and investigated a reported ammonia smell. Officials say the report was unfounded.