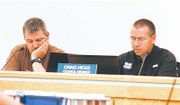 Following a hastily called executive session that lasted nearly 30 minutes, the Sunnyside City Council decided not to take any actions related to Interim City Manager Frank Sweet's position yesterday (Wednesday).
Sweet was arrested early Tuesday morning by Selah police. Five charges were requested, but Judge Michael McCarthy Tuesday afternoon only found probable cause for two of those charges during a preliminary hearing.
Today, prosecutors are supposed to make a decision regarding formal charges against Sweet.
The Sunnyside City Council decided not to take any action regarding Sweet's position because "...at this point he's innocent until proven guilty," according to Councilwoman Theresa Hancock.
Councilmen Jim Restucci and Jason Raines agreed, stating Mayor Mike Farmer will serve as the spokesman for the council members on this matter.
Raines did, however, note, "No charges have been filed and the council is waiting to see what charges are actually made (by prosecutors)."
Restucci also argued for patience.
"I don't see anything that would stop him from doing his job," said Restucci. "It would be premature to jump the gun."
Asked if there had been any dispute about the decision, Hancock noted that no one raised an objection before the meeting was adjourned.
"If I had a problem with the outcome (of the executive session), I would have made a motion," she said.
Farmer said Sweet is currently the interim city manager and the council cannot appoint another interim city manager unless Sweet is no longer serving in that role.
"Any acting city manager must be appointed by Frank in accordance with the RCW's," said Farmer.
He continued, stating he believes Sweet will continue to serve as the city's interim city manager as his case, if any charges are formally filed, is decided.
"We may revisit the issue if charges are filed tomorrow," Farmer said following yesterday's executive session meeting.
"That's why we have special meetings," said Restucci. "We can hold another one if it is needed."
Asked how the staff at city hall is dealing with the news of Sweet's arrest, Farmer said he was not certain.
"Frank is well-liked by staff and I believe there is a sense of concern among the staff members," Farmer said of city hall, stating many staff members were seemingly in shock when he spoke to them Tuesday morning.
"The council is pretty solidly behind Frank," he added.
All members of the Sunnyside City Council participated in the executive session meeting that transpired yesterday. Deputy Mayor Don Vlieger was not there but was available via conference call.
Legal counsel was provided by Rocky Jackson of Menke, Jackson, Byer, Ehlis & Harper, the city's attorneys.