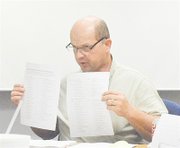 It's looking bleak for Sunnyside's Promise and Dr. Rick Cole held a brief discussion last night (Wednesday) with the Sunnyside School Board members regarding the matter at a nearly four-hour school board retreat.
"I had hoped back in July to bring forth a plan and it never came to fruition," said Cole, stating the school district wanted to enter into an agreement with Sunnyside's Promise for gang, drug and alcohol intervention services. However, it appears as though Sunnyside's Promise may not exist for much longer.
Sunnyside's Promise was a few years ago tasked by the school district, the city of Sunnyside and Sunnyside Community Hospital to come up with a long-term plan to develop a program to address issues in the schools related to gangs, drugs and alcohol.
That plan, said Cole, was never developed.
"Sunnyside's Promise appears to be having funding issues and we are evaluating how to keep the five promises alive," he said, stating the city, hospital and school district's representatives held a meeting earlier in the day.
The three entities are involved in a partnership because each has a vested interest in the health and welfare of the community.
The group had been holding regular meetings until last November. In February 2011, the group met to discuss funding for Sunnyside's Promise. The city, schools and hospital had all been committed to providing funding for Sunnyside's Promise.
However, the school district and the hospital stopped providing any funding for Sunnyside's Promise because of restrictions placed on them by audits and state laws, according to Cole.
Gangs, drugs and alcohol are all a major concern for the community. The city of Sunnyside, Sunnyside Community Hospital and the Sunnyside School District began collaborating to address the issues in 2010.
"Sunnyside's Promise has done important work...it's a good group but they are just trying to figure out what's next," said Cole, stating Sunnyside's Promise's funding issues lead to the question as to whether or not the organization will continue to exist.
He said representatives from the city, hospital and school district met yesterday to talk about the partnership and was challenged to address how the five promises (providing caring adults, safe places, a healthy start, effective education and opportunities to help others) will be kept without Sunnyside's Promise.
The school district has advisory committees for gang, drug and alcohol intervention, a Choices group and a group for its soon-to-be opened health center, as well as representatives that participate in the meetings with the city and hospital.
Cole said there are school board members tasked to meet with the various groups and it might be beneficial to combine the district's three groups to streamline efforts to address the issues related to gangs, drugs and alcohol.
School Board Director Sandra Linde agreed, stating the advisory committees in the district could address the same question regarding how to deliver on the five promises.