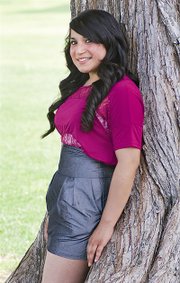 Selesty Rosales is hoping she is named Miss Sunnyside so she can give back to those who cared for her as a child.
She wants to work with the Washington State Migrant Council's child care center on South Hill Road if selected to wear the 2012-13 Miss Sunnyside crown.
The center was her home away from home when she was little because her father worked nights and her mother worked during the daytime. Rosales said it is a caring environment that provided her a strong educational foundation.
"Because of the programs there I was prepared for kindergarten," she said, adding her siblings also attended the child care facility.
Rosales believes not enough migrant parents are aware of the programs offered by the Washington State Migrant Council. She would like to organize an open house event, giving migrant parents the opportunity to learn about the programs and people working at the child care center.
"The program is important because parents need to feel they can trust those who are caring for their children," said Rosales.
She said she was provided many opportunities to learn, grow and enjoy herself when she attended the facility.
That experience helped Rosales develop a heart for children.
She said she enjoys spending time with youngsters and aspires to become a pediatric nurse. To accomplish that goal, Rosales is hoping to pursue a degree from the University of Washington, where she can also serve out her required residency training.
"Nursing involves taking care of people's needs...it also involves science, which I enjoy," said Rosales.
She also enjoys the community she lives in. Explaining the appreciation she has for Sunnyside and its residents, Rosales said she has three favorite places she would like other people to enjoy.
Those locations include the Sunnyside Museum, Taqueria Manzanilla Restaurant and Guerra's Deli.
The museum fascinates Rosales "...because most wouldn't believe a small town like Sunnyside has such a rich history."
She said many take for granted the community's background and how it grew from sagebrush to what it is now.
"It would be nice to help others learn about the history of Sunnyside," said Rosales.
She said Taqueria Manzanilla Restaurant is one of Sunnyside's newest eateries, but it has quickly become her favorite.
Rosales said the food is tasty and the staff is very friendly.
"It's good to eat there and socialize...I'd like people to see there are places where they can hang out with friends and family while enjoying a good meal," she said.
That is also why Rosales would like to introduce others to Guerra's Deli in the Mid Valley Mall.
She said the coffee is good and it is relaxing to spend time there, enjoying time reading, visiting or spending time on the internet while sipping on a quality cup of coffee.
"It's a quiet place," she said.
Rosales is the daughter of David and Rosalinda Rosales.
Her sponsors for the 2012-13 Miss Sunnyside Pageant are Dr. Saravanah Karanagaragan and Minute Mart.
Rosales is one of 13 young hopefuls vying for the Miss Sunnyside title. The Miss Sunnyside Pageant will be staged on Saturday, Sept. 15, at the Sunnyside High School auditorium.