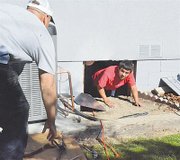 GRANDVIEW - For Eliazar Munoz, a certified heating and air conditioning specialist with Aztec Heating and Air Conditioning, serving as an assistant to a technician isn't enough.
Munoz graduated from high school last year and immediately sought out a career in the heating and air conditioning field. He earned certification in heating and air conditioning, but wants to become a technician.
That meant he had to return to school for further education and eventual certification.
While attending night classes at Charter College in Pasco, he approached Elias Milanez. Munoz asked Milanez if there was a possibility of joining the Aztec team as an apprentice.
Because the summer months are typically busy for Aztec Heating and Air Conditioning, Milanez was open to the idea.
That was nearly two weeks ago, and Munoz has been on the job since.
He has been observing and assisting Aztec's service technicians.
"It's not an easy job, but heating and air conditioning doesn't appear to be an industry that will die," said Munoz.
He said technicians must maneuver themselves in and out of crawl spaces under homes. They sometimes have a lot of back-breaking work involving attics, as well.
"You wouldn't believe the number of nails we encounter when we are in an attic," said Munoz.
He said all the climbing in and out of tight spaces is necessary for installing, maintaining and repairing heating and air conditioning units.
Technicians are responsible for ensuring the ducts that carry the heated or cooled air are properly sealed and the units are working properly for the proper air control.
In the summer months a heat wave can have service technicians running from home to home and business to business for hours on end. The same is true during a sudden cold spell or winter storm.
"Sometimes a furnace can be installed under a home. It can be inside a garage or in an attic," said Munoz, stating technicians must be prepared for every possible scenario.
"I wanted to learn the ropes from these guys," he said of Aztec's technicians, stating he knows what he is getting into and feels confident the training he is receiving is of the highest quality.
"In the U.S. more homes and businesses are installing heating and air conditioning for climate control, as well as environmental control purposes," said Munoz, stating the necessity for heating and air conditioning is growing as people become more aware of the benefits of controlled environments.
Heating and air conditioning units are more efficient and environmentally friendly, they help control allergens for those with breathing conditions and the use of a heating and air conditioning unit reduces the need for less environmentally friendly means of heating or cooling a structure.
"The work is both demanding and rewarding...I enjoy seeing my customers comfortable and smiling," said Munoz.