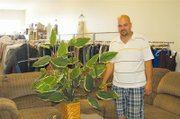 In the month and a half that the Sunnyside Thrift Store has been open, owner Carlos Magana has done a decent trade in clothing.
"Lots of people need clothes," he said. "I have good prices."
The store is at 2600 Yakima Valley Highway, Suite 4, nestled in near Aaron's and the Dollar Tree.
Some furniture and appliances greet customers in front of the store, but the focus is definitely on clothing.
Magana said he got his stock by buying the contents of another store and visiting yard sales. The result has been low prices for his customers.
Magana runs the business with his wife and spends the day at work. He has no employees, and the shop is open every day from 11 a.m. until 7 p.m.
"I'm sometimes in earlier or later," he admitted. "I'll be cleaning or straightening shelves."