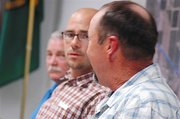 Two weeks ago Port of Sunnyside officials expressed optimism for land sales to accommodate potential development.
Last night, Monday, port commissioners met and agreed on a first step to expand the capacity of its industrial wastewater treatment plant to accommodate that possible growth.
Commissioners authorized port staff to ink a contract with Pasco-based HDR Engineering for a feasibility study, or conceptual engineering study, on increasing the port's wastewater capacity.
According to documentation presented last night, HDR's design work will help port officials in planning for its wastewater plant "to meet future growth needs over the next five years."
Amber Hansen is the port's executive director, and she confirmed the additional wastewater capacity under consideration would serve industries that have inquired about the port's land holdings.
During the port's meeting two weeks ago, Finance Director Carol Carter expressed a "hopeful" outlook that next year as much as $1.15 million could be generated from the land sales.
The contract with HDR calls for a cost not to exceed $103,000.
Feasibility study results will be completed by Sept. 14, with the possibility of starting final engineering on Oct. 22.
The port hopes to have the industrial wastewater treatment plant expansion completed by November 2013.