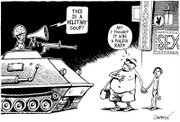 It was just like any other Monday morning, I was a little sleepy and not-so-ready for a full week ahead.
But while driving into town I got a rude awakening when I was met with signs saying "SOLD" next to a drawing of a little girl who appeared to be exasperated.
I was immediately bothered.
It took me back to my young 22-aged self when I set off on a journey to help end the sex trafficking industry, or at least put a dent in its profits.
Those tiny signs I saw as I drove into Sunnyside last Monday, which were advertising for a human trafficking exhibit that was held the previous weekend, brought back a familiar, sick feeling in the pit of my stomach.
I remember just weeks before leaving for Thailand several years ago my group and I began learning about the ins and outs of the sex trade industry.
It's one that brings in billions of dollars annually around the world, and seems to be a profitable industry. However, it's also the most sickening thing I've ever heard of.
I remember being tasked with leading a worship service for a group of missionaries in Colorado before we were slated to leave the country. The service primarily consisted of petitioning to God on behalf of those who are sold into that kind of life.
It's so easy to just forget the rest of the world exists outside of my own cubicle or home.
But that's the American way. Our society is very individualistic, and there's nothing wrong with that. It's just extremely simple to forget about developing world cultures that live so differently than I do, and have so much less.
The topic at hand hit me like a blow to the stomach again when Sunnyside's Promise and other local agencies held a vigil earlier this year for all trafficking victims locally.
Locally? What? Are we serious?
I couldn't believe my ears. I knew it happened, even in the United States. But right here in the Yakima Valley?
Gross.
The mere mention of the subject makes me ill, sad and many times I burst into tears.
What I remember from the worship session in Colorado was that I made a promise to myself, to the victims of this horrendous crime and to God; a promise I had long forgotten.
That snowy, early morning, in gut-wrenching doubled-over sobs, I made a decision and promise to pray and think about victims of sex crimes every day. And by all means, keep seeking out support opportunities that may help even one child.
After helping rescue some children off the street and placing them out of harm's way in Thailand, I returned home.
I returned home still fired up about the issue and wanted to make a difference in my hometown.
But then I went back to school.
After that is was full throttle with my career and I've only thought about the human and sex trafficking subject a handful of times since.
It's time to get back to that. After hearing the news that Sunnyside's Promise is paring back the services the agency offers because funding sources have dried up, I feel a sense of loss. Though the program isn't totally going away, it may not be the same.
It was that organization that brought light to my eyes, as well as to many others, to the appalling human trafficking matter that is happening right here, in our back yard.
But do we really need funding to put a stop to this terrible crime?
Maybe, but I contend we don't.
Though Promise is paring back its staff, they will continue to run on a volunteer basis.
There are still some things we can do to fight the good fight, and volunteering is one of those things.
We shouldn't let a bump in the road stop us from doing what we know is right.
I'm not sure what the next step is, but I am sure I will try to keep my promise to the victims around the globe and in my hometown.
Won't you join me? Even if it's a simple prayer or moment of silence for those who are probably, right now, feeling hopeless, it's something.
Remember, our own lives could be a lot worse and for some, it already is. I don't want to forget about these individuals and I don't want to get so wrapped up into my own small-scale issues that I begin to forget... again.