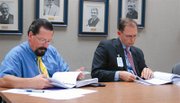 The Sunnyside Municipal Airport Advisory Board met Tuesday evening to review planned upgrades to the city-owned facility.
Available at the meeting were copies of the airport plan, which includes requirements the airport must meet to continue to receive FAA funding.
Recent changes in board membership due to changes in city and hospital staff made it necessary to introduce the new members to the plan.
Possible projects for the airport discussed at the meeting included using a recorder on the airport frequency to get a count of the planes using the airport, adding a fence required by the FAA, improving lighting for emergency medical flights and possibly setting standards of appearance for hangars at the airport.
The board also discussed the status of the automated weather observation system. Shane Fisher, public works superintendent for the city, said there is not much more to be done on the project.
"The contracts go before council on Monday," he said. Once approved, he said the installation could be completed in 30 to 45 days.
"We really want to get this done by the end of the year," he said.
The board also had a discussion on membership, and welcomed Sunnyside Community Hospital CEO John Gallagher to the board.
Laura Gjovaag/Daily Sun News
Sunnyside Interim City Manager Frank Sweet (L) and Sunnyside Community Hospital CEO John Gallagher examine their copies of the Sunnyside Municipal Airport plan, which was distributed at the advisory board meeting Tuesday night.