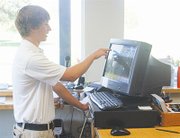 Chandler Luther isn't just an employee at Black Rock Creek Golf Course, he's also a golfer.
When the 2012-13 academic year starts next month Luther will be a junior at Sunnyside High School.
But he's already a seasoned veteran on the links as a District tournament qualifier for the Grizzly golf team this past spring.
Enjoyment of the sport of golf has translated into employment for Luther, who is in his second year as a shop assistant for the Sunnyside-area golf course.
"I started golfing in middle school out here quite a bit in summer and it seemed like a cool place to work during high school," Luther smiles.
His work load - which includes employment during the school year - is as varied as the 18 holes that tempt and taunt duffers on the Black Rock Creek course.
While helping a rush of golfers at the clubhouse for an evening league that was just getting underway, Luther says a typical work day might see him have varied responsibilities such as answering phones and tending to golf carts.
Speaking of the golf carts, Luther tends to the rigs from top to bottom: cleaning, washing and making sure they're all gassed up and ready to hit the back and front nines.
Also out on the course, shop assistants at Black Rock Creek have the responsibility to "pick the course," which entails gathering golf balls from out on the driving range.
Inside the clubhouse, Luther and the other shop assistants help out with everything from ringing up sales of golfing items to using touch-screen technology to schedule tee times for golfers.
Luther enjoys every aspect of his job, as well as the fringe benefit of working on the job around other golfers.
"Working at a place like this I can get a few golfing tips," he smiled. "It's all good."