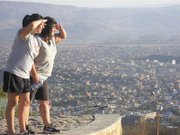 "It was a blast," said Krystal Valle of her recent mission trip to Bolivia.
Valle, from Grandview, was part of a group of 30 people that came from Grandview, Sunnyside, Anacortes and Forks to visit Cochabamba, Bolivia this summer for two weeks.
"We went to help Jeremiah and Marjorie Campbell, from Grandview, who were on a mission there," said Tarah Cruz of Sunnyside.
Cruz said the group helped with the ministry, including putting on dramas in plazas and churches. They also helped to "deconstruct and construct" a church, remodeling the building to fit more people.
"About six guys in our group also built a house while we were there," she said.
While in Bolivia, the group visited orphanages with toys and gifts. Cruz said it hit her hard, as she was adopted and spent time in an orphanage as a child.
"The joy of the kids after getting those small gifts was humbling to behold," she said. "Leaving that place, for all of us, was definitely hard."
Cruz also noted that the food was excellent and she tried many different things. The strangest was cow heart. She said everything was served with potatoes or French fries.
"Lots of starch," she commented.
Valle also enjoyed the food, but she was even more impressed by the people that the group met.
"People in Bolivia didn't hide behind facades," she said. "They were real with their struggles and they were real with their joy."
It was Valle's first mission trip, and her first trip to a non-English speaking country. The language barrier was a challenge for both Cruz and Valle.
"But everyone knows what a hug feels like, or a smile looks like, or what a laugh sounds like," said Cruz.
Adults either were fluent in English or couldn't speak it at all, while school-age children tended to practice their English with the group. But the group had an unexpected translator with them.
"My mother speaks Spanish, and she came out of her shell on the trip," said Cruz. She noted that her mother had been uncertain if she would be of any use on the mission, and was reluctant to go.
"She got us through customs," said Cruz. "If it weren't for her, I think we'd still be stuck there."
The journey to Bolivia and the journey home were probably the most difficult parts of the trip, said Valle.
"It was crazy getting there and crazy getting back," she said. "But everything in between was great."
Cruz said the group had four layovers getting to Bolivia and five on the return trip.
The trip had unexpected rewards for her, despite the difficulties of travel.
"We went to Bolivia to minister and help them, and they blessed us," she said.
Cruz has been on mission trips before, but this was her first trip to Bolivia. She said each trip she takes is humbling.
"On each trip God tries to grow me in a different way," she said.
Cruz plans to return to Bolivia. She hopes to stay for awhile on her next trip, maybe as long as a year and a half.
She said she enjoys meeting new people and learning about their lives. And she has a message for them.
"You don't have to believe what I believe," she said. "But there is hope."