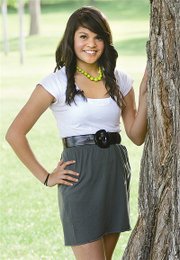 Having witnessed the negative impact gangs have had on her community, Miss Sunnyside hopeful Vanessa Serna is seeking opportunities to help youngsters get more involved in activities.
She plans to organize a field day for the community, giving citizens and the children of Sunnyside an opportunity to come together.
Serna, if selected to serve as 2012-13 Miss Sunnyside, wants to provide those participating in the field day with a variety of activities that might help them become more familiar with one another.
"My family moved from the neighborhood we lived in because we saw what gangs were doing. My brother was getting involved with gang members and my dad wanted to change that," said Serna.
She said the family moved to the outskirts of the community and her father insisted that her brother get involved in athletics.
"Sports helped my brother adjust and turn his life around," said Serna, stating the turnaround inspired her idea for a community service project.
She said basketball, soccer and dancing would all be part of the field day she would organize if she has the opportunity to wear the Miss Sunnyside crown.
"Offering others in the community an opportunity to get involved in sports might help them develop an appreciation for sports...and the opportunity to make the right decisions," said Serna.
If the field day is successful, she would like to organize more than one event.
Serna will be a junior at Sunnyside High School this coming school year. She wants to pursue a business degree at Washington State University, as well as a degree in fashion design at the Art Institute of Seattle.
Her goal is to open a fashion boutique, featuring her own creations. Fashion and modeling, Serna said, have fascinated her since she was a young child.
Proud of her community, Serna was asked which three places in Sunnyside she would take a newcomer.
She believes visitors to the community would enjoy Valley Lanes, the Sunnyside Museum and El Valle.
She said she is fond of Valley Lanes because the local entertainment center is a place to relax, visit and enjoy physical activity.
"You can have fun there and stay active," said Serna.
She believes travelers enjoy learning historical facts about different locations. For that reason the museum is a place Serna would direct visitors seeking historical information about Sunnyside.
"It's a fascinating fact that Bonnie Dunbar graduated from Sunnyside High School...I feel visitors would like to learn more about her," said Serna.
For a good meal, she believes El Valle Restaurant is a great place for visitors.
"It's one of my favorite restaurants for a good, home-cooked Mexican meal," said Serna.
She said the local eatery regularly offers specials and she believes the cuisine offers patrons a taste of tradition.
Serna is the daughter of Matilda and Primativo Serna. Her sponsors for the Miss Sunnyside Pageant are Fashion City, LeX Go Wireless and Serna Orchards.
Serna is one of 13 young hopefuls vying for the Miss Sunnyside title. The Miss Sunnyside Pageant will be staged on Saturday, Sept. 15, at the Sunnyside High School auditorium.