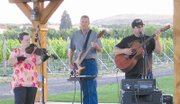 Gone Fiddling Again, a three-person musical group that plays and sings a fresh mix of folk/rock, swing, blues and country music, will be the star attraction at an afternoon dance being hosted by the Sunnyside senior citizens group.
The Yakima-area trio will be performing on Saturday, Sept. 22, at the Sunnyside Senior Center at 1400 Federal Way, from 3 to 4:30 p.m.
Admission to the dance is free to all seniors at least 50 years of age, although donations will be accepted at the door.