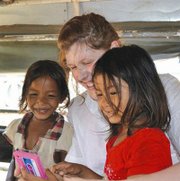 Children as young as four sold for sex trafficking.
A generation of folks who would now be senior citizens lost because of a violent purge.
That's some of the hardships experienced in the Southeast Asian country of Cambodia.
Sunnyside native Emily Shuttleworth was in Cambodia on a mission for two weeks this summer. This past Sunday she shared that experience during a service at Our Saviours Evangelical Lutheran Church in Sunnyside.
A 2008 Sunnyside High graduate and a senior this fall at CWU, Shuttleworth was in a group of 20 college students participating in a Youth With A Mission outreach to Cambodia.
During the two-week mission they assisted ministries in Cambodia, doing everything from leading vacation Bible school programs to planting 300 maringa trees. Shuttleworth says maringa leaves are useful in Cambodia as a protein supplement to the local diet.
She says there is a focus on ministering to younger people in Cambodia because 80 percent of the population is under the age of 30.
That's because millions of young, educated people were killed in a mass genocide by the Khmer Rouge from 1975 to 1979, Shuttleworth explained.
She told worshipers at the church service that the part of the trip that touched her heart the most was working at Rapha House, a mission to victims of sex trafficking in Cambodia.
Shuttleworth says girls ages 4 to 18 are victimized by sex trafficking and that Rapha (Hebrew for "healing") House is indeed a healing house for the girls.
Shuttleworth says it serves as a rescue center for girls who have escaped from sex trafficking, and for that reason pictures were forbidden and the location of the house could not be disclosed.
She was also impressed by one young man in Cambodia who rides his bike three hours round trip to minister to two people. "One time he was so happy because there were four people at church," Shuttleworth smiled.
That example of putting God and others above self still speaks to Shuttleworth.
"I want to live my life like that," she says. "It's not about me but about glorifying God."
In answering her summer call to Cambodia, Shuttleworth announced to the audience that she wants to answer another call. "I'm probably going to be a missionary some day," she said.
Shuttleworth added that all of us are called, whether it's in Cambodia or right here in the Lower Valley.
"Seek out ways God can use you right now," she said.