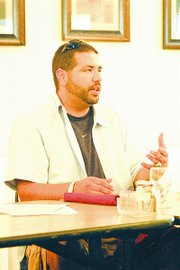 Over the past year, Mabton residents have had more police coverage, cleaner streets and a city council that is taking a more proactive approach.
At last Saturday night's Mabton council retreat, held at Sunnyside's Snipes Mt. Brewery, council members looked at what they've accomplished over the past year, along with what they might want to see next year.
This coming year's Mabton city budget may reflect an additional part-time public works employee. Mayor Angel Reyna asked council members to consider hiring an additional public works employee.
Reyna said creating the position as part-time would be adding just three hours each day, and eliminating the current staff's on-call status over the weekends.
In addition, Reyna says the Department of Ecology is requiring the city to hire an additional full time wastewater treatment facility operator.
Looking back
But it wasn't all budget talk last Saturday.
The council reminisced about events that transpired this past year in which they were pleased.
Exactly one year ago, the council met to identify five attributes they'd like to achieve as a group. Concerning their desire to create a family-oriented community, Councilman Mario Martinez said he was pleased with the turnout at the National Night Out and Community Days events.
"The town's looking better," he added.
In addition, council members noted that several downtown store owners have worked to improve the aesthetics of their buildings.
"The streets are cleaner, it's not as messy as it used to be," said Councilwoman Oping Hutson.
The second, in a list of items the council desires for Mabton, is an economically sound community.
Martinez noted that the improvements at the wastewater treatment facility for the town are another way the city is generating revenue. He also says that investors look at those sorts of things when deciding to open a new business in a town.
"They will walk through the town, visit the cemetery, wastewater plant and city hall," Martinez said.
Council members also noted that adding to a safe and healthy environment is the city's police and fire departments.
Martinez says police officers have kept up with the abatement of graffiti and it's beginning to change outsiders' perceptions of the city.
Councilwoman Vera Zavala says concerning police and fire personnel, the level of standards is high.
"We're at a standard I can appreciate," she added.
Zavala also praised the council for its cohesive work ethic, and for the mayor's 'get it done' attitude.
"We're getting along better, I've really appreciated this past year," she said.
Zavala also said Reyna has a work ethic that is solid and is backed with his integrity and commitment to the city.
"If someone asks me whether or not the mayor will call them back, I can say you will, and I know you will," Zavala said, speaking to the city's mayor.
Hope for the future
After more than an hour of listing recent improvements made in Mabton, the council said it was time to identify other areas in the community that should be targeted.
Councilwoman Sophia Sotelo says she'd like to see the community center floors redone.
Adding to that, Zavala said she'd like to see a senior center up and running again in Mabton. Martinez said he wanted to see a city website, and the city's water town adorned with the city logo.
Sotelo added she'd like to see picnic shelters at the local parks, and a farmers market held in the city during the summer months.
Budget full speed ahead
The Mabton City Council will now begin developing the 2013 budget, and is hoping to have it completed by Thanksgiving this year.
"It's a realistic time frame," said Reyna.