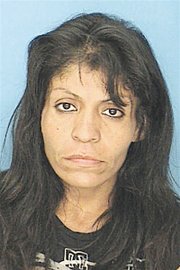 Sunnyside police are seeking any information that might lead to the whereabouts of Mickie Flores, who may have suffered an injury during a potential burglary attempt early this morning (Tuesday).
Officers believe Flores was injured while inside a residence in the 100 block of Nicolai Avenue just before 3:30 a.m.
The home's occupant told police he thwarted what he believed was a burglary when he armed himself with a sword. He told officers responding to the burglary call he was hiding from the suspects and when they entered his home, he struck one with the sword he was wielding.
The resident, identified as 60-year-old Michael Reynolds, believed the blade struck the shoulder of Flores. He told officers he recognized her, although he said he is not involved in a relationship with her.
He had been involved in an earlier incident yesterday afternoon that allegedly involved Flores. Neighbors reported seeing Reynolds just after 2 p.m. Monday brandishing a machete. At the time it was reported Reynolds was chasing Flores from his property with the weapon. She reportedly fled prior to police arriving, but Reynolds was taken into custody on requested charges of assault fourth degree and brandishing a dangerous weapon.
Reynolds posted bail and was released from the Sunnyside jail at approximately 8 p.m. last night.
Sgt. John Chumley said it would be speculation to say Flores believed Reynolds was still in jail at the time of this morning's attempted burglary, but "...it's within the realm of possibilities."
Sunnyside police officers investigating this morning's burglary report confirmed a small amount of blood was found leading from inside Reynolds' home to the driveway, where Reynolds said a pick-up was parked. The blood trail, say police, confirms someone was injured during what was believed to be a burglary attempt.
Reynolds told police Flores and a male subject fled the residence after the female suspect was injured. He said he witnessed the pair leaving in a pick-up.
Reynolds cooperated with detectives who took over the case and police are now concerned for Flores' well-being.
Authorities believe Flores is in need of medical care and have attempted to locate her. They have inquired with area hospitals but there is no indication that she has received medical treatment for the injury Reynolds claims to have inflicted.
The case is still under investigation and police are urging citizens with any information regarding Flores' whereabouts to call 836-6200.
Flores is described as a 42-year-old Hispanic female with a slender build. She stands at 5'1" tall, has brown hair and eyes, and a medium complexion.
No charges have yet been requested against any of the individuals involved in this morning's incident.