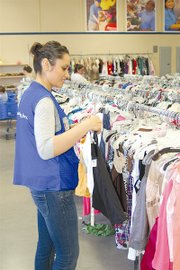 Goodwill Industries in Sunnyside does brisk business.
"We have new stuff every day," said Assistant Manager Anthony Esperza. "We have some regular customers who come in almost every day to check out what's new."
Shoppers will find clothing, books, small appliances, electronics, toys, shoes and a wide variety of clothing in the store. The retail store also carries some furniture and a selection of kitchen utensils and bake ware. The items on the shelves have been donated by generous members of the community, and the profits go to a good cause.
The store is part of Goodwill Industries of the Columbia, according to Marcy Fisher in retail operations. The area is made up of seven stores.
"We wouldn't be able to keep our doors open without the support of the local community," she said.
Fittingly, it's the local community that benefits when merchandise is moving off the store shelves and out the front door. Goodwill contributes to training programs for people who have difficulties that may make finding employment a challenge.
"All the money made goes back into the mission of helping the disadvantaged," said Esperza. The goal of the organization is to help people reach their highest level of employment.
The store is located at 2840 E. Lincoln Ave. and is open Monday through Saturday from 9 a.m to 8 p.m. and Sunday from 10 a.m. to 5 p.m.