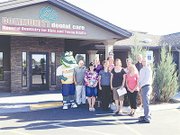 The Sunnyside School District is requiring all elementary students to have a current dental exam this year. Community Dental Care of Sunnyside is partnering with the district to make sure all students are able to have the exam.
All Sunnyside elementary schools will send home a registration form for students to participate in a full dental exam, which will include cleaning, fluoride treatment, needed x-rays and a prize at Community Dental Care in Sunnyside. Forms need to be returned right away. Parents will be able to indicate on the form if their child has already had a dental exam recently.
Students who register for the program will be transported by school bus from Washington, Outlook and Sun Valley elementary schools and students from Chief Kamiakin and Pioneer elementary schools will be walked to the dentist offices for this service twice during the school year.
Parents will be advised of any need for follow-up treatment. Any students who do not have a dentist or have not been seen by a dentist for over a year are encouraged to register for this service. Parental release and registration are required.
Dental problems are one of the biggest reasons students miss school during the year. Having a complete dental evaluation can greatly decrease the chances of having dental pain that can cause students to miss school or perform poorly while at school while experiencing dental pain.