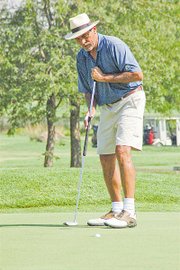 A picture is worth a thousand words...that old saying couldn't have been better illustrated than when Brad Donahue tossed his golf ball over the cart sheds as he dejectedly walked off the 18th green Sunday afternoon at Sunnyside's Black Rock Creek Golf Course.
That image let the gallery gathered at the closing hole know that Donahue had just thrown away the three-stroke lead he had established the previous day in the Banana Belt Invitational, which is now Black Rock Creek's largest tournament of the year, thanks to a major revamping of the event in 2011 taken on by a local committee headed up by Phil Luther.
The beneficiary of Donahue's collapse, albeit rather minor compared to some of the crashes that have occurred on the links over the years, was seasoned veteran Troy Wilmoth. Approximately 40 years Donahue's senior, the 69-year-old Wilmoth closed with a 1-under-par 71 Sunday. Coupled with his opening day, even-par 72, Wilmoth clipped Donahue by a single stroke to earn this year's Banana Belt title.
Both Wilmoth and Donahue hail from Yakima.
Donahue grabbed the first day lead Saturday, firing a splashy, 3-under-par 69 that featured four consecutive birdies on holes six through nine. He also birdied the opening hole. Those five front-nine tweeters, along with pars on holes two through five, got him out in 5-under 31. After opening the back side with back-to-back pars, Donahue knocked down yet another bird on the par-3, touchy-feely, 107-yard 12th hole to move him to six-under.
What might have been on Saturday for Donahue, in terms of a career-type round, dissipated after grabbing a par on No. 13, as he gave back three strokes over the last five holes with bogeys on 14, 17 and 18.
Still, Donahue got into the clubhouse with a 69, three shots better than both Wilmoth and Sunnyside's Brian Bliesner, both of whom rang up an even-par 72 on the opening day to grab a share of second place.
Bliesner, carrying a 10 handicap, faded on Sunday and shot truer to his established scoring average, posting an 85 on day-two.
Paired together in Sunday's closing round, Wilmoth cut into Donahue's three-stroke lead quickly. He opened with four consecutive pars, compared to Donahue going bogey-bogey-birdie-bogey.
Donahue kept a one-stroke grip on the lead by matching Wilmoth par-for-par the next three holes. But on the par-4 eighth Wilmoth snared the first of his three birdies on the day to knot things up even-steven. The senior linkster wasted little time in grabbing the lead outright as he birdied the very next hole, the 168-yard, par-3 ninth that requires a golfer to carry his tee shot over a pond to a green that is flanked by bunkers on the right and left. With Donahue settling for a par on No. 9, and a front-side 38, Wilmoth's 2-under-par 34 before the clubhouse turn gave him a one-stroke cushion heading to the back side.
Wilmoth went up by two strokes on No. 10, claiming a par to Donahue's bogey. But the day-one leader responded in a big way on the dogleg right, 11th hole, enjoying a two-stroke swing with a bird to Wilmoth's bogey. Consecutive pars by both golfers on the next two holes kept the score tied.
The dogfight, as it turned out to be, swung Donahue's way when he birdied the par-5, 539-yard, dogleg left 14th.
Trailing by one, and after both golfers parred No. 15, Wilmoth got back into the scrap by laying claim to a birdie on the straight-away, par-4 16th hole. What should have been a knotted up affair proved to be a one-stroke lead for Wilmoth, however, as Donahue could only muster a bogey on the hole.
The see-saw battle tipped back Donahue's way, though, as he got down in par on the short, 134-yard 17th hole. Wilmoth settled for a bogey, which left the two tied again.
With just the 18th left to play, it appeared a playoff was imminent as both golfers got down the fairway in relatively good shape, seemingly poised to finish off regulation play with pars. A manageable putt that would have given Donahue a par, and the tie, went for naught, however, allowing Wilmoth to skate off with the one-shot victory.
"Winning the Banana Belt with a 95-golfer field, and some pretty good sticks among them, that's quite an accomplishment for someone who's nearly 70 years old," Black Rock Creek Golf Pro Scott Galbraith said of Wilmoth, who's still rated a scratch golfer.
"To play even-par the first day and one-under the second day, that says quite a bit about how much golf Troy still has left in him," Galbraith added.
Donahue, who carries a 1 handicap, had to settle for runner-up honors, but came away with a two-day, even-par total of 144.
The third low scorer this past weekend was Chris Indall of the Tri-Cities. He closed at 4-over-par 148 on Saturday and Sunday rounds of 74-74. He had a total of six birdies the two days, nothing worse than bogey except on the par-3, 17th hole the final day, when he absorbed a quad.
Sunnyside's Bliesner, a 10-handicapper, snared four tweeters to negate four bogeys in shooting an even-par 72 Saturday. He ballooned to an 85 on Sunday, thanks mainly to two blow-ups...a bogey-four on the toughest rate hole on the course, the par-5 sixth, and a triple-bogey on the par-4, 11th. Despite the 13-stroke swing from Saturday to Sunday, Bliesner walked away with low net of field honors (actual score minus handicap) for the second straight year at the Banana Belt.
The low scorer among the second flight golfers this past weekend was Black Rock Creek member Mike Wagner, a 10-handicapper, who had rounds of 83-75. Seven shots back with runner-up honors was Prosser's Dick Poteet.
The third flight champion proved to be another Lower Valley golfer, Tony Bertsch, who carries a handicap of 15. He posted rounds of 85-87. Finishing second among the third flight golfers was Zillah's Dennis Petrea, four strokes back of Bertsch.
On a side note, Sunnyside's Andrew Schutt carded a 3-under-par 69 on Sunday to tie Donahue for the low 18-hole round of the tourney. Schutt wasn't eligible to pick up any of the prize money, though, as he showed up late for his tee time on the opening day and wasn't allowed to compete on Saturday.