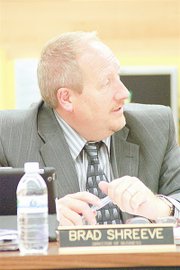 GRANDVIEW - At Monday night's Grandview School Board meeting, directors approved contracts with two speech language pathologist agencies.
Bilingual Therapies is the district's first choice, according to Finance Director Brad Shreeve, because the agency charges $65 an hour, and would provide a consultant on-site.
The Hello Foundation charges $80 per hour, and uses video conferencing calls to consult with students.
Shreeve says that Bilingual Therapies is the first choice, but the budget allows for three consultants to be available to the district. The agency may only be able to provide one person. So the secondary choice is the Hello Foundation, who can offer 2.5 consultants.
Shreeve says the district will be paying $336,000 if three consultants are hired.