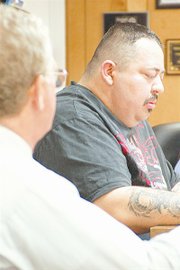 MABTON - Mabton City Council members left this past Tuesday evening's meeting feeling more unified than as of late.
At the previous council meeting, Aug. 14, council members discussed their dismay with Councilman Mark Gourneau's lack of presence in council activities.
Gourneau has not been present at many of the year's meetings thus far, and most recently has missed three consecutive council sessions.
Records indicate that of the 16 council meetings since January of this year, Gourneau has attended just six meetings.
City Attorney Phil Lamb earlier this month said council members could decide at last night's meeting whether or not to excuse Gourneau's absences. After meeting individually with each council member throughout the week, Gourneau last night publicly apologized for missing meetings, and explained the last three missed meetings were due to work and illnesses.
"It's a difficult judgment call," Lamb said.
Councilwoman Oping Hutson asked Gourneau if he had anything further to say.
"I would like to continue to be on the council. There's no excuse, all I can do is try better," Gourneau said.
Before making a motion to excuse Gourneau's absences, Councilman Mario Martinez said he understood life happens.
"...but if you can't commit just step aside, it's important that you're here," he said.
Specifically, Martinez moved to excuse Gourneau's July 10 absence from the council meeting.
The motion to excuse the absence was unanimously approved.
"Thank you," Gourneau said.
After the motion was approved, Councilwoman Vera Zavala thanked Martinez for making the motion and the council for approving the absences.
The council left Tuesday's meeting feeling more than unified and ready to tackle the budget workshops, which are scheduled to begin next month.