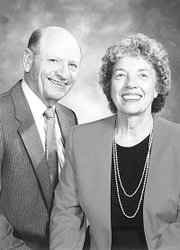 GRANDVIEW - Milton and Phyllis Ramsey of Grandview celebrated their 70th wedding anniversary on Aug. 8.
The couple was feted at a celebration held at a mountain resort near Naches that was hosted by their children.
In addition, the Ramsey's were honored with a coffee hour reception at Bethany Presbyterian Church in Grandview.
A retired colonel, Milton married Phyllis on Aug. 8, 1942 at the Presbyterian church in Wapato after eloping while he was home on leave from the Army Air Corps.
During their married life and his military career, the couple lived in Texas, Idaho, Hawaii, Moses Lake, Morocco, Spain and New Mexico, where he retired as a colonel in 1969.
The Ramseys have lived in Grandview since 1984 and are parents to Pastor Tom Ramsey of Ohio, Michael Ramsey of California and Marikay Ramsey of New Mexico. They also have two grandsons in Ohio.