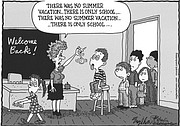 As the fun-filled days of summer vacation draw to a close, teachers and students across Central Washington are heading back into the classroom to hit the books and start a brand new school year.
I often meet with local teachers, administrators, parents and students on ways we can better serve children and improve our educational system. The resounding message that I hear is the need for more local control and less interference from the federal government.
It is clear that our public education system is in need of reform. Students in Washington state and across the country deserve a quality education to help prepare them for a successful future.
A decade has passed since Congress first passed the bipartisan No Child Left Behind Act. While there is no doubt this law is far from perfect, it established a level of accountability for the first time by insisting on results for the billions of federal dollars spent on education.
However, many improvements can and must be made. As Congress continues to consider ways to improve the No Child Left Behind Act for our students, I believe that we need to increase:
Flexibility for Local Schools - A school in Pasco or Chelan has different needs than schools in Seattle or New York. States and school districts should have flexibility in deciding how to spend 100 percent of their federal dollars.
Choices for Parents and Students - If children aren't learning and schools aren't improving, parents should have as many options as possible to help their child - whether it means extra tutoring or moving their child to another school.
Smart Use of Taxpayer Dollars - Duplicative and unnecessary federal programs that waste taxpayer dollars and create red tape for local schools should be eliminated.
Accountability - Schools must be accountable for ensuring that every child learns. Rather than national testing, I support added flexibility for states in designing their accountability systems.
I will continue to work with my colleagues to improve our school system and ensure that all students have an opportunity to receive a quality education.
- U.S. Congressman Doc Hastings (R-Pasco) represents Central Washington's 4th Congressional District.