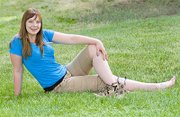 Fire safety is important to Miss Sunnyside candidate Kelli Wilson.
That's why she has chosen to seek an opportunity to work with the Sunnyside Fire Department to teach youngsters in the community fire safety and prevention techniques, if selected to wear the Miss Sunnyside crown.
"I know a family that experienced the devastation of a fire...seeing how that family was affected makes me want to help others learn how they can prevent a fire or get out of a fire safely," said Wilson.
She said she would like to organize presentations that young children will be able to understand. She believes the Miss Sunnyside court can play an influential role in the community and youngsters are receptive to what the community's royalty has to say.
Wilson said she would like to involve the fire department's EDITH House (Exit Drills in the Home), which is a mobile training trailer used for educating people in the community for the purpose of executing fire drills.
"This will be a hands-on learning tool," said Wilson, stating there have been several local fires during the past year that inspired the idea of promoting fire safety education.
"A fire is not only devastating to the families impacted, but it can devastate the community, as well," she said, stating the lives of those living in a structure that has been consumed by the ravages of a fire often touch the lives of many others.
A fire can destroy a structure, leaving that structure uninhabitable. The community is affected by the appearance of the structure and the need to assist the affected individuals that once lived there.
The fire department, too, is impacted because its resources may be limited and a portion of its budget is used to fight a fire that may have been preventable.
"If some basic fire prevention skills are shared, then fires can be stopped before they even begin," said Wilson, stating preventing a fire can save lives and resources.
It might sound as though Wilson wishes to one day become a firefighter, but she is aiming her sights on helping mothers and their unborn children.
She has a desire to attend Brigham Young University in Idaho to earn a degree in ultrasound technology. Her dream is to become a diagnostic sonographer, providing sonograms for expectant mothers.
"I think it is amazing that we have the technology to see the development of a baby through each stage of a pregnancy," said Wilson.
She also is interested in helping others understand Sunnyside and said there are three places she would take visitors to the community.
The first location Wilson would like to introduce visitors to is Hutchinson's Produce. She said she would like to introduce visitors to local produce and she believes the kettle corn freshly made there would be a hit with travelers.
Sunnyside High School is another destination that Wilson would like to introduce to visitors. She said there are many talented students at the high school, and Wilson believes visitors would be impressed with the abilities of those with whom she attends school.
"They would have the opportunity to enjoy a variety of things, showcasing athletes, artists, musicians, welders, carpenters, mechanics and much more," said Wilson.
One final destination she believes would be of interest to travelers is the downtown corridor.
"I would take someone visiting Sunnyside on a walk downtown so they could enjoy the atmosphere with the music playing," said Wilson.
She said the flowers and community pride on display downtown are truly a testament to community pride.
Wilson said the experience would also provide visitors an opportunity to meet some of the people "...who really make Sunnyside the great place it is."
Wilson is the daughter of Traci and Tim Wilson. For the Miss Sunnyside Pageant she is sponsored by Bob's Auto Clinic and Community Dental Care.
Wilson is one of 13 young hopefuls vying for the Miss Sunnyside title. The Miss Sunnyside Pageant will be staged on Saturday, Sept. 15, at the Sunnyside High School auditorium.