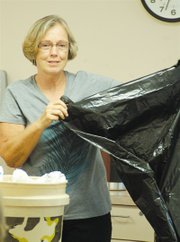 Some of the items Sunnysiders leave behind has shocked, grossed and amazed one local resident.
Growing up in a Dutch family, Sunnyside's Libby Werkhoven had never experienced litter in her life.
"Anything we had we recycled, reused or properly disposed of," she told fellow Sunnyside Daybreak Rotarians recently.
But when she and her husband settled in a nearby Lower Valley city, she says she couldn't believe the amount of litter they encountered.
"My children made almost $20 a month in recycled bottles and cans," Werkhoven said.
Then 20 years later the Werkhovens relocated to Sunnyside.
"I was impressed with the lack of litter in Sunnyside," she said.
Though littering isn't as prevalent in Sunnyside as perhaps in other nearby towns, Werkhoven and her husband have spent the last five years picking up abandoned garbage alongside the Lower Yakima Valley Pathway.
Once a month the two set out on a lengthy walk, from Sunnyside to Grandview, filling up at least two large garbage bags full of long-forgotten trash.
According to research, Werkhoven says nearly 33 percent of all litter comes from fast food. An additional 29 percent is paper, while 28 percent is aluminum cans and 6 percent is plastic bags or bottles.
She says over the years the two have picked up hundreds of Safeway plastic bags, thousands of Wal-Mart bags and one, yes just one, Fiesta Foods plastic grocery bag.
Werkhoven also made sure to note she's never found trash from Sunnyside's Stokes Burger Ranch, whose owner was sitting in the audience.
"You have good customers," she said to Burger Ranch owner David Stokes.
Of the garbage she sees, including napkins, empty energy shot containers, milk cartons and empty cigarette packs, Werkhoven says there's one piece of trash she's unwilling to touch.
"That's where I draw the line: cigarette butts," she said.
Because the couple is also on the pathway board of directors, the two also draw the task of emptying the pathway garbage cans.
"You wouldn't believe how many dead cats we find in there," she said.
Werkhoven urges all citizens to think about the lifespan of their garbage before chucking it out the window or casually dropping it to the wayside. She says a Styrofoam cup takes nearly 1 million years to decompose. Aluminum cans last for 200 years, disposable diapers hang in there for 500 years and paper bags take just one month to dispose of themselves.
Some 'litter bugs' aren't doing it on purpose, however.
"I know I've been in a truck with the windows open and sometimes things get away from you," she said.
Werkhoven has found cell phones, unmailed letters, losing lotto tickets and a grand total of 26 cents in the past five years. But she says not to worry; the unmailed letters get a personal delivery to the post office by Werkhoven, herself.
Statistics shows those who litter are either lazy, they don't care or are unaware of their crimes to the earth.
Werkhoven says according to additional research, those most likely to litter are between the ages of 16 and 24, are smokers, eat lots of fast food, drive more than 50 miles each day and have never been married.
In addition, state highway crews pick up more than 12 million pounds of garbage each year, she shared.
Werkhoven says of the population in America, 25 percent would never dream of littering. But another 25 percent commit that crime on a regular basis, while 50 percent occasionally litter and could be persuaded to stop. She says that 50 percent of the folks who occasionally litter are the ones targeted by stop-littering campaigns.
'Don't be a litter bug', 'litter hurts' and 'don't mess with Texas' are all popular stop littering campaigns that have still stuck with us, says Werkhoven.
Fines for littering on state roads can total $2,000, she added.
Werkhoven said area residents can, too, join in on the efforts to end littering. To report a 'litter bug', Werkhoven says to call 1-800-LITTER-1.