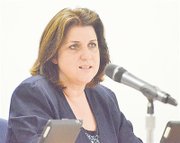 Sunnyside police were involved in a car chase yesterday afternoon (Thursday) at about 3 p.m. after a witness spotted a juvenile male stealing a vehicle from the 700 block of East Grant Avenue.
The witness followed the vehicle until responding officers located it at Alexander Road near Midvale Road.
Upon seeing police the suspect accelerated to over 100 mph. The pursuit continued east on Alexander Road and then south on Waneta Road.
The suspect lost control of the vehicle and was taken into custody. He was identified as a 14-year-old male from Sunnyside. The owner of the car had left the keys to the vehicle in the ignition while it was parked at a residence.
The suspect was transferred to the Yakima County Juvenile Detention Center with requested charges of theft of a motor vehicle and eluding.
Sunnyside police are also investigating the theft of tools from a truck parked at Best Western reported this morning (Friday). Hand tools, saws, power tools and other items were taken from the vehicle.
Police are also investigating a burglary report made yesterday afternoon from the 700 block of West Yakima Valley Highway. The victim reported that money was taken from a freezer.
Since yesterday morning, police in Sunnyside have also responded to three animal problems, handled three traffic problems, investigated an automatic alarm and provided three citizen assists.