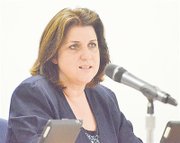 GRANDVIEW - The annual Great Grandview Grape Stomp is set for Saturday, Sept. 8, at the YVCC Workforce Education Center, 114 Grandridge in Grandview.
Registrations are now being accepted for teams wanting to compete in the event, which will be held from 1 to 5 p.m.
The early registration fee is $35 per team, which consists of three members. The fee includes being given a limited edition grape stomp t-shirt.
Teams registering after Sept. 3 will have a fee of $45.
Officials from the Grandview Chamber of Commerce, which is holding the event, say space is limited, as is the number of t-shirts.
The goal of the competition is for teams to stomp out the most juice possible from a container of grapes. The juice is weighed in lbs., with prizes awarded in six categories: corporate, seniors, adult, non-profit, kids 10 to 17 and kids 10 and under.
Children under the age of 18 must have a signed guardian's permission to participate.
The grape stomp finals will be held at 4 p.m.
For more information or to register, call the Grandview Chamber of Commerce at 882-2100 or e-mail grapestomp@visitgrandview.org