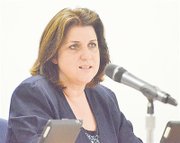 The Sunnyside School Board last night approved a 2012-13 general fund budget of just more than $64 million.
Sunnyside School District Finance Director Jeff Loe briefed the school board last night on the proposed budget during a hearing before the board's regular meeting. That briefing included the general, ASB, capital projects, debt services and transportation fund budgets.
The estimated general fund revenues, said Loe, will be about $65.6 million. Other anticipated revenues include $749,000 for the ASB fund, $2.2 million for the debt services, more than $11.1 million for capital projects and nearly $400,000 for transportation services.
Loe said approximately 75 percent of the general fund budget is spent on salaries and benefits. The district, he said, hired seven new certified staff and 13 classified employees this year.
That was the result of increased enrollment, said Loe. He said nearly 180 additional students are expected to attend Sunnyside schools during the 2012-13 school year. Last year there were 6,191 students in the schools. There were 405 teachers and 250 classified employees on the payroll for the 2011-12 school year.
Salaries for teachers, Loe estimates, will account for more than $34.5 million in expenditures. Another $3.2 million is expected to be paid to principals, with the same amount of money earmarked for the salaries of staff members providing instruction professional development.
With the estimated expenditures of just more than $64 million, Loe expects the school district to end the 2012-13 school year with an ending general fund balance of nearly $6 million.
The ASB fund is expected to have an ending balance of about $353,000 after expending nearly $620,000.
That money, said Loe, is generated primarily from fundraising activities.
"No salaries are paid from the fund," he noted.
The debt service fund, which is used to make Sunnyside School District's bond payments, is estimated to grow a little more than $2.2 million, of which just more than $2.1 million will be spent.
The capital projects fund balance is currently at approximately $1.2 million. More than $11 million in revenues are anticipated and the district expects expenditures to just top the $10 million mark.
Loe said the high school modernization project will account for some of those expenses since the project is still underway.
Finally, Loe reported on the transportation vehicle fund. A beginning fund balance of about $202,000 is projected to have approximately $502,000 in it by year's end.He said three new buses were purchased this past summer and a smaller bus will be purchased during the 2012-13 school year.
All together, Loe reported he feels good about this proposed budget.
"I provided a little extra capacity," he said, stating the budget is an estimate based on projections for the year.
Enrollment numbers, he said, will be adjusted and staffing levels will also be adjusted as the school year progresses.
Sunnyside School District Superintendent Rick Cole said, "There is a prescribed formula for staff levels for FTEs (full-time enrollment levels)."
He said the school district attempts to adhere to the formula to best meet the needs of the students and the budget.
Other cost-saving measures are taken, as well, according to Cole.
He said the school district "...works very hard to track food and supply costs."
Loe told the school board directors the school district is on target with staffing levels and is working on developing individual building budgets.
Supply costs are kept under control by ordering on an as-needed basis, he said.
During the regular meeting the Sunnyside School Board approved the budget by unanimous consent.