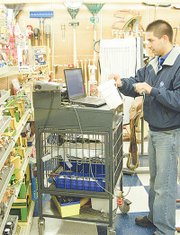 Noe Gonzalez wishes he had time for a hobby.
Gonzalez is working full-time at the Sunnyside Bleyhl Country Store and working on a business degree at Heritage University.
"I leave home at 7 a.m. and get home at 9 p.m.," he said.
A Grandview native, Gonzalez graduated from Grandview High School and got his AA degree from YVCC.
He started his job at Bleyhl while he was still in high school and worked at the Grandview branch for three years before moving to the Sunnyside store. He's been in Sunnyside for two years now.
His co-workers said he likes to come up with new business ideas, both for the store and for potential ventures once he's graduated.
In the meantime, he works in purchasing, finding items for the store to sell. And as soon as the workday is done, the school day starts.
He's been at Heritage for a quarter and loves the school. He plans to get a BA in financing.
"I'd like to stay local," he said of his dreams after he graduates. "But I'll go where ever I can use my degree."
He's got some support in the form of his family. He lives with his parents on the family farm, along with nearly a dozen horses that his brother is breeding.
Without a lot of spare time, Gonzalez doesn't have much in the way of hobbies.
"I'm not really into sports," he said. "I'll play a little basketball if I get the chance."
If he had a little more time, he'd like to spend it with friends.
"I'm pretty busy," he said.