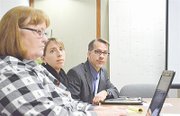 A swap of offices is planned at the beginning of the new year.
The Port of Sunnyside commissioners Monday approved a new lease agreement with Entrust Community Services, which will move into the current Port of Sunnyside office space on South Seventh Street in Sunnyside.
The port will move its administrative offices to the space currently occupied by Entrust in what is commonly known as the Horizon building on Barnard Boulevard.
The commissioners noted the space on Barnard Boulevard will give the Port of Sunnyside room to grow, while the port's current office space will better suit the needs of Entrust.
The lease of the space on South Seventh Street has been agreed to by the non-profit agency, which serves people with disabilities, teaching them job skills.
Entrust has agreed to lease the premises for five years with a renewal option. The organization has agreed to pay the Port of Sunnyside $2,500 per month for the term of the agreement.
The current agreement between the two entities expires on Dec. 31, 2012.
Port officials anticipate the office swap will take place sometime shortly after that date.
The Port of Sunnyside commissioners agreed to the terms of the agreement by a 3-0 vote.
They heard further news related to Barnard Boulevard from KDF Architects at Monday's meeting.
Dennis Dean and Megan Beyer work for the firm that has designed the YV-Tech building to be constructed on Barnard Boulevard in Sunnyside. The pair provided a presentation to show the commissioners what the new building will look like.
They said construction is anticipated to begin in April 2013. The facility will be 12,000 square feet in size, accommodating three vocational programs.
"This is what we are referring to as phase III," said Dean.
He said the building has been designed much like the YV-Tech building in Yakima, but on a smaller scale because the Yakima campus houses 18 programs.
Beyer said there is room for growth at the Sunnyside campus and the building has been designed with that in mind.
Dean said, "Sunnyside will also house the only welding program."