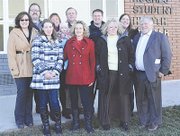 This past Saturday the Sunnyside School District dedicated the new health center building on the Sunnyside High School campus that is named posthumously in honor of longtime substance abuse counselor John Hughes.
The Hughes family was present for the dedication and Hughes' older brother, Tom, spoke on behalf of the family. He said the family is grateful that Sunnyside has chosen to honor his younger brother, who impacted so many people across the country.
Hughes said the impact of his younger brother can be felt just hearing from those whose lives were changed by John Hughes.
"John worked in the Beaverton schools for two years and I worked there for 30 years...I still get asked if I am John Hughes' brother," he said.
"John had a sense of community...I know he loved this community very, very much," Tom added.
Also speaking about the impact Hughes had on others were Sunnyside Schools Superintendent Dr. Rick Cole, Dr. Judi Kosterman of Westcare Foundation, Sunnyside School Board Director Rocky Simmons, Sunnyside Community Hospital CEO John Gallagher, Architect Gary Wetch and Sunnyside Deputy Police Chief Phil Schenck.
All of them said the John Hughes Student Health Center is a tribute to Hughes' legacy.
Cole said the community would later that evening be out in full force to see all the Christmas lights, but it was fitting that the dedication of the center take place on the same day as Sunnyside's annual Lighted Farm Implement Parade because "...we are here to turn on the light of John Hughes' legacy."
Kosterman said she met Hughes 35 years ago and it was from Hughes that she learned the importance of addressing substance abuse issues and the challenges many teens face.
She said Hughes inspired her to address the substance abuse problems in the Evergreen School District.
"John Hughes helped me learn," said Kosterman, stating Hughes didn't stop teaching others about the importance of addressing substance abuse in schools at the school district level. He challenged administrators at the regional, state and national levels, as well.
"John was always looking forward through the windshield while most of us were looking in the rearview mirror," said Kosterman.
She said Hughes' work was especially important because his approach was to "...see the whole student."
For that reason, Kosterman said, it is fitting that the building to be used for student health programs be named the John Hughes Student Health Center.
Simmons said Hughes also impacted him in many ways.
"It's like drinking from a fire hose when you hire a person like John," he said, stating there wasn't a subtle or gradual approach to addressing the needs of students where Hughes was concerned.
Simmons said Hughes used a holistic approach to helping meet the needs of students and he had a multitude of ideas for doing just that.
Simmons said Hughes was also a humble man and had he been there Saturday to see the student health center, he would have responded, "Nice building, now what?"
The school board director and longtime friend of Hughes said he believes Hughes would immediately have begun devising plans for the use of the facility.
"John didn't need Sunnyside, Sunnyside needed him," said Simmons.
Schenck, too, believes the student health center is a fitting way to honor Hughes.
He said Hughes was known for reaching out and engaging students.
Schenck said Hughes' approach to life was about giving to others and developing relationships.
"John was incapable of getting to the point, but he cared about the importance of relationships," Schenck said, stating a simple conversation could often be turned into a detailed discussion about the well-being of his entire family and the pets, too.
"John dedicated his life to the needs of others," said Schenck.
Hughes' widow, Regina, chose to speak briefly, as well.
She said the dedication of the John Hughes Student Health Center was bittersweet, but she knows her husband would be happy.
"It took vision to make things happen and the vision of many to make this building happen," said Mrs. Hughes.
Following a few more comments, those present for the dedication were provided a glimpse of the facility, which is approximately four to six weeks from completion.