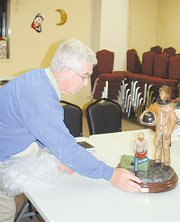 Bonnie Dunbar will be making the rounds here in Sunnyside during the next week or so.
Make that nine table-top models of the Bonnie Dunbar bronze sculpture, the last batch of 24 models to be distributed.
That's according to news from a meeting Sunnyside's Bronze Society held last night, Tuesday, to not only discuss the models, but to finalize steps in wrapping up work on the larger-than-life statue.
One of those steps is placing a "story plaque" at the sculpture, a brief bio of Dunbar's rise from an Outlook farm girl to space shuttle astronaut.
Bronze Society member Bill Flower said locals know Dunbar's story well, but visitors to the area - such as those here for last weekend's parade festivities - are less familiar with Dunbar and her legacy.
Last night, society members approved a final draft of the text to go on the engraved story plaque. There was one change in the wording to reflect Dunbar's public education here in Sunnyside and in college.
"This whole tribute to Bonnie is a tribute to eductors," said Flower.
Another society member, Cathy Mears, praised community support for the effort to erect a Dunbar sculpture. It was unveiled during a public ceremony in July of this year.
Flower said the story plaque will likely be placed by February 2013.
There will also be a set of plaques at the Dunbar site to honor donors who made it possible. Bronze Society members are still working on the details of that effort because there are 150 donors.
The idea is to make the engraved plaque big enough so that all 150 names can be read, while at the same time keeping it modest in size so it doesn't block views of the sculpture.
For those who would like a visit from Bonnie - her table-top model that is - it's not too late to purchase a model.
Flower said there are two models still unsold at a cost of $3,000 each. Sales of the models help fund the bronze sculpture projects here in Sunnyside.
For more information or to purchase one of the remaining Bonnie models, contact Flower at 830-5209.