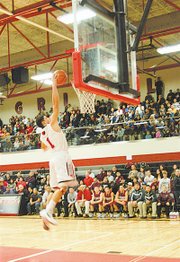 It was the very definition of a rivalry game, as Sunnyside and Grandview's boys hoop teams traded the lead 16 times before the Greyhounds finally came out on top 56-53 last night.
Tuesday's contest in Sunnyside saw Grandview grab an early 23-17 lead in the second quarter - the biggest margin for either team - before the Grizzlies closed the first half with a 13-3 run to go up 30-26 at the break.
Grandview tied the contest at 44-44 heading into the fourth quarter, one of 10 ties on the night.
"It was a close, hard played game by both teams," said Sunnyside Coach Ron Rowe.
The tight tilt between Lower Valley rivals continued into the fourth quarter, with Grandview finally prevailing on crucial free throws late in the contest.
The Greyhounds went to the free throw line 27 times last night, with 20 of those attempts coming down the stretch in the second half.
Though Grandview only canned 11 of its charity tries, it was enough to make the difference as Sunnyside attempted just 10 free throws, knocking down five of them.
Grandview's Isaiah Gonzalez was especially adept at getting to the line, going 5-of-11 at the stripe on the way to a team-high 17 points to go with a game-high nine rebounds.
Also scoring in double figures for the Greyhounds were Andy Rodriguez with 13 points and three steals, Isaiah Ruiz with 13 points and Joey Saenz who tallied 10 points to go with two steals and two assists.
Grandview Coach Roy Garcia was pleased with the Greyhounds for coming together as a team.
"We had strong performances," he said, noting that four Greyhounds scored in double digits. "We shot the ball fairly well," said Garcia.
Garcia said Grandview's ability to play "team basketball won us the game."
The Greyhounds had to play team defense, too, in an attempt to get a handle on Sunnyside's Trey Serl, who torched Grandview for 22 points.
Defensively, Garcia said his team was running a zone, but had to adjust the strategy to a man defense in an effort to stop Serl.
"He scored 22 points and we needed to place the pressure on him," Garcia said.
Serl, who also collected five rebounds, was the only Grizzly in double figures. Brandon Daley added nine points and four rebounds, while Greg Spini contributed six points and a team-high eight rebounds to help the Grizzlies to a 38-35 rebounding advantage.
It was the second consecutive close loss for Sunnyside, which has dropped its first two games of the season by a combined total of eight points.
Rowe is seeing signs of growth in his team.
"A lot of good things happened last night," he said. "We played more consistently throughout the ball game and even though we came up short we showed some improvement."
Rowe added, "Overall we had a better effort on rebounding and there were not as many breakdowns."