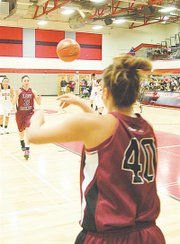 The Sunnyside High School gym was rocking last night, as the long-time rival Grandview Greyhounds invaded the confines of the Grizzly den.
The packed house got its money's worth, especially in the girls hoop game, as the Lady 'Hounds needed an overtime session to get by Sunnyside, 69-63.
Grandview relied heavily on senior Payton Parrish to eke out the non-league win. She scored four of Grandview's 10 points in OT, ending the night with a game-high 33. The Lady 'Hounds also got double-digit scoring performances from a pair of juniors - Marissa Caballero with 17 points and Breanna Lopez with 11.
The visitors appeared to be in control late in regulation, but Sunnyside's team motto this year of being "all in" propelled the Lady Grizzlies to fight back from a 10-point deficit. Sunnyside rallied late in the game with a 23-point, fourth-quarter surge that ended up sending the contest to overtime. Four SHS players accounted for the scoring in the final quarter of regulation - Selena Rubalcava with seven points, Natalia Bazan with six, and Vanessa Alvarez and Jordan Rodriguez with five apiece.
It was the sophomore Rubalcava, who finished with 11 points, who hit the bucket that sent the game into OT. There were 4.3 seconds showing on the clock when Sunnyside inbounded the ball. Grandview had the perimeter well defended, but Rubalcava got open along the baseline and a teammate fed her the ball. She went up for a jump shot from about 10 feet out, draining it to knot the score at 59-all.
Despite getting outscored by a 10-4 margin in overtime, Sunnyside Coach Rick Puente said he couldn't have been prouder with the way his club battled from behind in the fourth quarter.
"The one thing about our girls, they have a never-die attitude. They never give up. They keep on fighting," he said.
Puente said in the overtime session his club struggled a bit with Grandview's stout man-to-man defense. "And, I think we came out and tried to do too much. Our players need to stay within themselves and do what they're capable of doing."
Puente said the 5-foot, 8-inch Parrish also was a force with whom to be reckoned. In acknowledging that Parrish topped the 1,000-point career scoring plateau last night, he noted she "...definitely knows how to play the game.
"She's very active in attempting to get the ball, and just as active once she gets it."
He noted, too, that Parrish delivered in a big way from the free throw line last night, canning 13-of-15 attempts.
Grandview Coach David Gibb said he felt his girls battled through some adversity at the end of regulation, when Sunnyside hit a shot to send it to overtime.
"I was very proud of (our) effort, and proud of Payton for reaching the 1,000-point milestone," Gibb added.
Scoring-wise for Sunnyside - Rodriguez, Bazan, Rubalcava and Alvarez all were in double figures with 15, 12, 11 and 10 points, respectively. Celia Vargas and Tiana Perez added efforts of eight and seven points in the losing cause.
Sunnyside (1-1), the lone 3A team in the conference, opens Columbia Basin Big Nine League play this coming Friday and Saturday against 4A Davis and Wenatchee. Both games are on the road.
"We expect a tough battle at Davis on Friday," said Puente. "They play a full court, man-to-man defense.
"We haven't played Wenatchee for a couple of years, but we know they're always big and athletic."
2A Grandview (1-1) also begins league play on Friday and Saturday, at home both nights against Ephrata and Ellensburg.