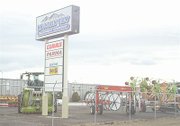 An otherwise quiet month for new building starts in Sunnyside during November was led by a project to construct a new entryway for a commercial building at 521 Midvale Rd.
The project is valued at $34,825 and Columbia River Steel and Construction is listed as both applicant and contractor.
The entryway accounts for more than half of the $64,245 in combined valuation for the 11 permits building officials green-lighted in November.
Also notable last month was a two-story addition to a house at 30 S. McLean Rd. with a valuation of $20,000.
All told, city coffers netted $1,727 in permit fees for new building starts in the month of November.
Though last month was slow for new building starts in Sunnyside, Planning Supervisor Jamey Ayling said there were an additional 13 applications submitted in November that are still being processed.
Through November 2012, Sunnyside has issued 306 building permits this year. The total for all of 2011 was 430.
In addition, year-to-date as of the end of November 2012 the city has issued 1,424 permits related to code enforcement issues. The total was 1,628 for all of 2011.