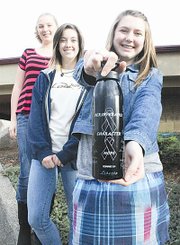 Despite a long battle with cancer, Sunnyside business owner Devri Russell has never given up.
Classmates of Mrs. Russell's daughter, Sarah Tyhuis and Emma Schmahl, decided to also battle the disease.
Blayke Russell, Tyhuis and Schmahl have been friends ever since they were youngsters, and now they have embarked on a new journey at Sunnyside Christian High School.
After watching the effects the illness has had on Mrs. Russell and her family, the two 'Knights' in shining armor realized many more families like the Russells must endure the same hardships. Schmahl, 14, says she and Tyhuis decided to form a Relay for Life fundraising team in order to raise money for families like the Russells. "Devri's Defenders" is the name of their team, and Schmahl says it's the least they can do to give back.
Schmahl and Tyhuis got to work on the team this past September and have been going full throttle ever since. They designed a water bottle in honor of Mrs. Russell and other families suffering from cancer. The bottle was manufactured by Liberty Bottleworks of Union Gap, and after just a few short weeks of receiving their inventory, the two teens sold everything they had.
"We have to order 72 bottles at a time, and we ran out, so we have to order more," Schmahl said.
The bottles are priced at $16 each and can be purchased at Sunnyside Christian High School. But water bottle sales aren't the only thing these Knights have up their sleeves.
"We've also made homemade candy to sell and cutouts that (classmates) can stick on their lockers," said the 14-year-old Tyhuis.
The two also have a fundraiser planned next year specifically for the Russell family.
Mrs. Russell's 15-year-old daughter Blayke says she is very touched by her friends' efforts to help her family. With her mother having cancer, she says it's been a tough road for the family.
"She's had (cancer) twice, and I'm (optimistic) that we're getting closer to remission," Russell said. "It just means a lot that my friends are doing this."
Devri's Defenders were hoping to raise $500 before the American Cancer Society fundraising relay event next May, but with bottle and candy sales the two have already exceeded their goal with $600 raised in just three months.
"We thought $500 would be hard, but we are going to keep going and see how much we can get," Schmahl said.