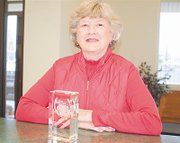 SPOKANE - An effort by Washington state to preserve its historic barns earned national recognition last month.
During the National Historic Preservation Conference in Spokane last month, an Honor Award was presented to this state's Heritage Barn Program.
Receiving the award from the National Trust for Historic Preservation was Jerri Honeyford of Sunnyside, who chairs the state's Heritage Barn Advisory Committee.
"Obviously it was an honor to receive the award as one of the best barn restoration programs in the nation," Honeyford told the Daily Sun News. "It's personally satisfying because I want to do anything I can to help farmers in restoring their barns."
She explained that the program provides a matching grant for farmers who on their own can't afford to restore historic barns. "They are very large structures and expensive to restore," she said.
Also recognized in receiving the award was Honeyford's husband, Sen. Jim Honeyford, representing the Washington State Legislature.
"This is one of the very few projects that gets capital monies in the rural areas," Mr. Honeyford said this morning.
Efforts by the Honeyfords were not lost on state officials following receipt of last month's award.
"Recognizing the steady erosion of historic barns due to deterioration and development pressures, Honeyford and wife Jerri have worked tirelessly to raise awareness of the importance of barns as historic resources on our rural landscape," Washington State Department of Archaeology officials noted in a prepared statement.
"Senator Honeyford advanced legislation that recognized barns as historic resources and provided seed money by the legislature for the preservation of historic era barns," agency officials added.
In just three years, the Washington Heritage Barn Program has added 500 barns to its register. These barns are considered important features of the state's landscape and rich agricultural history.
With matching grants provided by the Washington State Legislature, 46 barns have been restored.
The award was presented last month to the barn program in conjunction with the state legislature, the Washington State Department of Archaeology and Historic Preservation, as well as the Washington Trust for Historic Preservation.
According to the National Trust for Historic Preservation, headquartered in Washington D. C., the National Preservation Honor Awards presented last month "are bestowed on distinguished individuals, non-profit organizations, public agencies and corporations whose skill and determination have given new meaning to their communities through preservation of our architectural and cultural heritage."