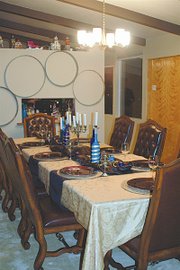 Seven years ago Grandview-area grape growers David and Susan Cowan branched out into winemaking, starting Cowan Vineyards.
Last Friday, during a holiday open house, they unveiled an additional venture in the form of their Cowan Estate Vacation House, a 3,600 square-foot home located near Sunnyside on Puterbaugh Road.
The couple purchased the home about four years ago, Susan says, with the idea of creating a "holiday getaway" for visitors to local wine country.
The four-bedroom, three-and-a-half bath house is fully furnished with amenities that include a pool, barbecue area, bar, pool table and a fully functional kitchen.
Tracy Stroud is the couple's daughter and oversees reservations for the vacation home. She says vacation stays have ranged from a night or two to a week or so.
David Cowan adds that the split-level home has also hosted visitors travelling through the area who are here temporarily on work-related stays of a month or so.
The house offers prime views of the Yakima Valley and is decorated with wine country themes, including bedroom nightstands and even wall decor of old wine barrels.
For more information or reservations, contact Stroud at 206-384-0327.