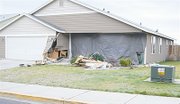 Sunnyside police believe Jorge Luis Pacheco Jr., 20, of Sunnyside was driving while under the influence of alcohol when he drove into a home in the 1300 block of South Street early this morning (Tuesday).
Police say the owner of the home just after 3 a.m. called 9-1-1 after finding a vehicle in the living room.
The home owner told police the driver of the vehicle was attempting to leave at the time of the call and police officers rushed to the scene.
The vehicle, say police, was partially embedded in the garage and caused the entire front wall of the home to collapse.
A single male, later identified as Pacheco, was outside the vehicle and it was determined he had been driving it at the time of the crash.
Police said it appears as though Pacheco was traveling south on South 13th Street and failed to stop at the South Street intersection. It was determined that Pacheco attempted to negotiate a left turn at the intersection at a high rate of speed, but the vehicle left the roadway and crashed into the home.
"The driver appeared to be under the influence of alcohol," said Sgt. Joey Glossen, who serves as a public information officer for the Sunnyside Police Department.
He said emergency services were called and an ambulance from the Sunnyside Fire Department arrived on scene. Paramedics treated Pacheco for minor injuries and released him to law enforcement officers.
The vehicle, said police, is estimated as a total loss and the home is believed to have sustained between $20,000 and $40,000 in damages.
Glossen said no one inside the home was injured, and police are requesting Pacheco be charged with DUI and illegally possessing marijuana under the new Washington state statute since the suspect is under the age of 21.