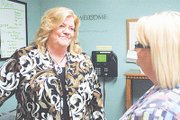 Farm implements weren't the only big rigs moving around a week ago Saturday, Dec. 1, during Sunnyside's annual lighted parade.
That same night Sun Terrace's new general manager, Debbie Smith, and her husband Dalton were unloading a 26-foot U-Haul truck following their move here from Oregon.
"We could hear the horns honking from the parade and saw the traffic afterward," Smith recalled of moving night at Sunnyside's Harvest Village.
Smith started her new job as general manager at Sun Terrace Assisted Living & Retirement Community last week, and says she has received a warm welcome from residents, staff and the community.
She has a dozen years of experience in resident care management and has more than 30 years of experience in a variety of care-providing settings - ranging from foster to hospice care.
"I get up every morning and feel blessed that I get to do this," Smith says.
She comes to Sun Terrace after working as a travelling care center director for the past four years in the Salem, Ore. area. Smith says she and Dalton grew weary of the travelling and began looking for a location to settle down.
The Smiths were drawn to this area because of their experience living in rural eastern Oregon while raising their children. In addition, Smith is a native of central California, where she grew up in a rural, farming area.
Smith says she loves the fact that many of the residents at Sun Terrace have a farming or ag background. She says providing great service to today's seniors is a way to pay them back for all the service they provided and work they did in building this community.
"We're here today because of them," Smith says.
That commitment to caring for older generations extends to military veterans. Smith has a grandson serving in Afghanistan, and says it's an honor to be able to serve those who served the country in uniform.
She's especially appreciative of the commitment and longevity of so many employees at Sun Terrace.
"My goal is to make sure our seniors and staff have a good day every day," Smith said. "I want to do whatever it takes to make that happen."
Though still new to her post at Sun Terrace, Smith also wants to do what she can to learn more about Sunnyside.
She'd like to visit the Sunnyside Museum and, next year, wants to make sure she doesn't miss out on the lighted parade.
"Maybe we can put lights on one of our vans and enter it in the parade," Smith smiled.