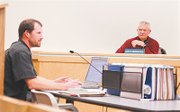 Despite strong community opposition to a proposal to rezone a property at the corner of 16th Street and Harrison Avenue to allow a new mini-market, the Sunnyside Planning Commission decided last night to send the proposal to city council.
Most of the objections to the proposal revolved around the TW Market, which is located across the street from the proposed new market. A number of people living in the area signed a petition and showed up at the last planning commission meeting to voice concerns that the neighborhood could not support both stores.
At last night's meeting several residents of the area stood to further argue that the traffic in the area is already dangerous because many children are present during the morning hours.
Commissioners grilled Planner Supervisor Jamie Ayling about the requirements of changing the zoning of the property to make sure it met all the criteria for the change.
Commissioner Jesse Hernandez Jr. questioned the right of the commission to deny an application based on the concerns of the neighborhood when every legal condition of the proposal had been met.
Commissioner Jeff Barrom also noted that even if the commission approved the proposal, it still would need to go before city council and the property owner would have to comply with quite a few zoning requirements, including installing a sprinkler system in the building.
Commissioner Bernie Barker stated that the concerns of the neighbors were an issue for her and she would keep those concerns in mind while voting.
The final vote was 4-3 in favor of sending the proposal to city council.
In other business, after a public hearing in which no member of the public spoke, the commission voted unanimously to send a proposal to rezone four parcels of land in the 1000 block of Thornton Road, near I-82, from urban residential agriculture to low density residential.