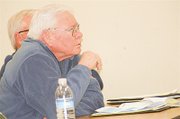 GRANDVIEW - A need for more regional partnerships and work opportunities to retain young people were some of the needs highlighted last night during a Central Washington Economic Development Forum held in Grandview.
Tuesday night's forum was the last of a series of public meetings held in Kittitas and Yakima counties to gather input on developing a regional plan to strengthen the economy.
The discussion last night included an overview of the region's strengths - such as a strong labor force and ag markets - as well as weaknesses that included lack of family-wage jobs and low education attainment.
But last night wasn't just about sharing what's right and wrong with the Central Washington region, but also casting a vision for future projects to build the economy here.
Ideas suggested last night included possibly having the Port of Grandview put together an incubator for new, small businesses, as well as tourism projects related to local ag industries like dairies.
Dave McFadden of the Yakima County Development Association said starting next month a steering committee working on Central Washington's economy will begin accepting applications for projects to be considered for economic development in Yakima and Kittitas counties.
Information on the regional focus for economic development and submitting applications is available at www.ycda.com/aboutnewvision/cedsplan or by calling 509-575-1140.