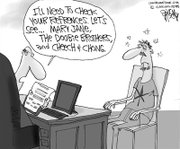 Though many questions have arisen out of the new marijuana law in Washington state, one thing seems to be clear across the board. The new law, which decriminalizes possession of marijuana so long as it's less than an ounce, doesn't offer employment protection.
Initiative 502 was approved last month by Washington voters, legalizing recreational marijuana use as of Dec. 6 of this year.
The question that plagued my mind during election season centered around the fact that a one-time use of the drug can show up on a drug test up to 30 days after it is used.
So, how will employers or police know if someone just recently lit up? The short answer: they won't. A positive test result may still mean expulsion from your position at work or a DUI infraction.
After extensive research, it doesn't seem to matter when an employee smokes the stuff. If your employer does random drug tests, you're still responsible for following the company's policies, and could land yourself a spot in the unemployment line.
So before you toke it up with your friends, be sure to know your employer's policies, and where they stand on the issue.
Regardless, the drug is still federally illegal and thus, many places of work will probably not change their drug use policies. And, be aware, though it's legal to use, it's still illegal to sell and buy it. So how will you use it, if you can't technically buy it?
It seems like a lot of dangers and unneeded hassle.
Most of all, be safe out there and use your brains, please. Don't end up in the poor house or the jail house because you wanted a good time.
It's really not worth it.