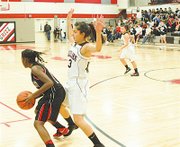 It was all Sunnyside last night as the Lady Grizzly basketball team rolled big over the visiting East Valley Red Devils, 62-28.
Junior Monique Willingham came off the bench to pour in a game-high 18 points for the winners, draining 8-of-9 shots from inside the paint and making 2-of-4 from the foul line. The 5'10" reserve also snagged a game-high 12 rebounds, seven from the offensive glass.
"Monique does a good job on weak side rebounding," said SHS Coach Rick Puente. "With her 12 rebounds and 18 points, she delivered big time last night."
Puente was just as pleased with the play of 5'8" junior Vanessa Alvarez. Besides dropping in 11 points on 5-of-10 field goal shooting, her team-leading four steals helped the Lady Grizzlies keep East Valley to single digit scoring in all four quarters.
"Vanessa is very quick and anticipates really well," said Puente, noting Alvarez is getting adept at maintaining her aggressive style of play while balancing that in-your-face defense with good timing and "...taking good chances in trying to take away the ball.
"She has a knack for the basketball on the defensive end. Vanessa only knows one pace...and that's fast," Puente added.
As effusive as Puente was in his praise for Alvarez and Willingham, he gave major kudos to the rest of his ball club, as well. All told, his said the Lady Grizzlies came up with a total of 15 steals on defense, noting his team didn't allow East Valley many lay-ups.
He was also pleased with the balanced scoring by his Lady Grizzlies. Besides the combined 29 points from Willingham and Alvarez, Sunnyside got a 10-point performance from sophomore Selena Rubalcava, two of her buckets coming from 3-point range. Sunnyside, too, received a nine-point effort from sophomore Natalia Bazan. Also finding the net in Tuesday evening's victory were sophomores Jordan Rodriguez and Tiana Perez with six and four points, respectively, and seniors Celia Vargas and Priscilla Bermudez with a combined four points.
East Valley's leading scorer was Mikayla Anderson, who tossed in nine points.
"I was definitely pleased with the (non-league) victory," Puente said, but in his next breath quickly added that his team still has several areas in which they need to work to improve.
"We still need to tweak some things, like jumping to the ball on the weak side. The girls also need to react to the pass while the ball is still in the air, not after the ball has arrived.
"All in all, though, it was a good outing for us last night," said Puente.
Sunnyside (1-1, 3-2) returns to Columbia Basin Big Nine League play this coming Friday and Saturday. Eisenhower rolls into town Friday night, and the Lady Grizzlies will travel to Moses Lake on Saturday.