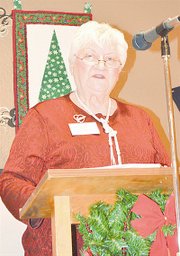 PROSSER - A great adventure can change one's life, according to Marge Thompson of Starbuck.
This past Tuesday she spoke to the Lower Valley Christian Women's Connection at its monthly meeting in Prosser about the adventures she has experienced, including the adventure of developing a relationship with Jesus Christ.
Thompson grew up the eldest of her siblings, meaning she was often responsible for watching over the younger children.
She said she often found herself wanting to please her parents as many older children do.
"When playing family, I was the mother," Thompson said.
She said her parents raised the children to be loyal, trustworthy and honest, but they weren't a Christian family.
Thompson remembers her father as a friendly, giving individual, who was interested in geography and enjoyed listening to stories read aloud. He was particularly fond of stories about Idaho and listened with intent as the stories were read.
Through the stories a dream was birthed and Thompson's parents began talking about moving to Idaho.
"It seemed it was just a dream...we lived in Missouri," Thompson said, stating the dream became a reality following her eighth grade graduation.
That's when her parents and uncle packed up a truck the family called Lizzy and embarked on the family's big adventure.
Thompson said her father and uncle had just $12.50 saved for the trip, requiring several stops along the way to Idaho.
She said there were many opportunities along the journey to take in the sights surrounding her as she and her siblings traveled in the back of Lizzy, especially when Lizzy broke down or needed a rest.
The family settled in Weiser, Idaho and Thompson enrolled in high school. That's where she met and began dating her eventual husband, Ivan, at the age of 16.
The couple, after graduating from high school married, began learning about Jesus through her new in-laws, who were a Christian family.
The family attended church and her mother-in-law provided her with Bible stories to share with her children as the Thompson family expanded.
"I began to learn about Jesus with my children," Thompson said.
She said she and her family moved to a small town in Washington state after 30 years.
"I was invited to a Bible study," Thompson said, noting it was in that new town that she learned about a relationship with Jesus.
"I told the man leading the Bible study I knew about Jesus, but I didn't know Him," she recalled for the Christian women's group.
After praying and accepting Jesus into her life, Thompson said she was eager to share her experience with others.
The Thompson family's adventure was not over and Mrs. Thompson's adventure with Jesus was still new.
She said she began a new life and the family moved many times because her husband worked in construction, building dams and nuclear facilities.
After a few years of moving, however, Mr. Thompson was diagnosed with rheumatoid arthritis. He couldn't work because of it and needed surgery.
Thompson said there were several deaths in her family during that time, and she began experiencing a downward spiral of despair as a result of the losses.
She was referred to a Christian counselor who suggested she begin forgiving people because it was believed Thompson might have someone whom she needed to forgive.
Her husband retired early and Mrs. Thompson had to figure out what the family would do without him working.
The six Thompson children were still growing, graduating, getting married and having children of their own.
"I entered a new phase in my life and began to climb out of myself," Thompson said.
She said her relationship with Jesus helped her change through it all.
Thompson said she began attending Christian women's club meetings and found joy as she developed relationships with the women attending the meetings.
"My life has turned to a life of joy," said Thompson.
Her trials didn't end. Thompson suffered a stroke, her husband battled cancer and 23 years ago her son disappeared after losing a friend in Iraq.
However, Thompson believes Jesus continues to bring joy to her life.
"I learned the importance of forgiveness and the importance of a stable life through Jesus," said the Christian women's club speaker.